Beidou-backed app used to track cattle in pastures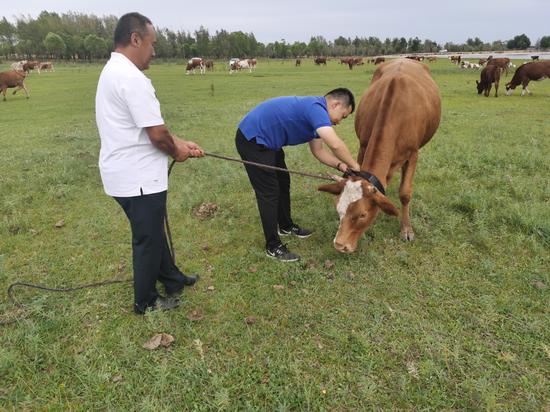 Bayanduuren, right, Party secretary of Shavartai village, helps herdsman Otgonbileg put a black collar on livestock. The collars have chips that can transmit and receive location signals. [Photo by Khangai/For chinadaily.com.cn]
It's 6 am and Otgonbileg, a 55-year-old herdsman from Hanggin Banner in Ordos, Inner Mongolia autonomous region, is in no hurry to take his cattle to graze in the pastures like in the old days. Instead, he checks their location over real-time video in a phone app.
A "boss ox" among Otgonbileg's cattle wears a black collar with installed chips that can transmit and receive signals, enabling him to track the herd's movements. A solar panel on the collar keeps the device charged. Telephoto cameras installed on high ground along the area's pastures are controlled remotely to record and transmit videos to his phone.
The app is backed by China's Beidou Navigation Satellite System. As one of the four global networks providing navigation and positioning services, the Beidou system has provided full-scale global services since July 31. It can be used in a wide variety of fields, such as agriculture, fisheries, transportation and disaster relief.
Herdsmen in Ordos use the system to control water pumps, fueled by solar power, in the wild to give thirsty animals a drink.
"They don't need me now. The cattle can graze by themselves," Otgonbileg said.
For decades, herdsmen like Otgonbileg had to get up at dawn to take their cattle to the pastures and spend hours daily following them around while riding on horses or motorbikes, to ensure that the cattle were safe and returned to their farms on time.
"The technology has released me from such labor. I get more free time to do other things I like," he said.
Otgonbileg has about 100 head of cattle and 200 sheep. His pastures, located to the west of the Kubuqi Desert, cover 266 hectares. The harsh environment makes grazing tough.
"Before this system, we mainly judged locations for cattle by experience," he said.
One time he failed to find them after searching on his motorbike for about five hours. Later he found out he was only about 10 meters away from them at one point. "I didn't see them because sand dunes had obscured my view," he recalled.
"I don't think I could have continued working that way as I grew older."
He bought two collars for about 12,000 yuan ($1,730) each, and a water pump-control system for about 4,000 yuan in 2017.
"It's a bit expensive for herdsmen, but I think it's worth it," he said.
Now he has time for interests such as handicrafts. "I earned 40,000 to 50,000 yuan by selling handicraft items in recent years."
In August, Ejin Horoo Banner in Ordos launched a smart pasture project in Shavartai village, with plans to enable 53 families to use the system for free. All devices are to be installed and tested this month.
Bayanduuren, Party secretary of the village, said locals mainly make a living by selling beef cattle. For decades, incomes were low because of the high cost of raising cattle and low sale prices, and most people were dependent on jobs tending herds.
"It's important to modernize animal husbandry," he said, adding that if herdsmen can monitor their cattle remotely, they can make extra money by working at nearby tourist resorts or joining the bed-and-breakfast business.
Only about 10 families in Shavartai have used the system since the village introduced it in 2016 because of its comparatively high price. Bayanduuren said the government plans to promote the system in the whole village in the next two years.
Otgonjargal, 50, a herdsman from Shavartai, has been using the system since last year. He said his family's income has also increased. They have more time for planting corn and making dairy products.
His parents used to graze 60 head of cattle for about nine hours a day, and now they don't have to work as hard, he added.
Chuluu, a local technical instructor for the Beidou system, said it can function in places with no signal as well. The app can count the number of steps taken by animals to prove they are in a pasture, and not just on a farm, which will help herdsmen also sell them at the higher price that range-fed beef commands.
---
---